Welcome.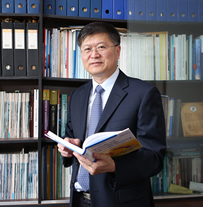 The School of Chemistry and Molecular Engineering (SCME) community connects advances in research and innovations in applied and theoretical science as well as engineering technology. I consider SCME as more than just an exceptional place to learn and conduct research, but further as a bridge to the incredible intellectual resources of one of the world's famous universities.

Since East China University of Science and Technology (ECUST) is founded as the first single-subject chemical institute in China, SCME is one of the leading and high-ranking chemistry research departments in China, offering fully built-up education system and degree programs at undergraduate and postgraduate (including M. Sc and Ph. D) levels, as well as post-doctoral workstation. Cultivated by such a solid foundation and creative environment, students and researchers enjoy the freedom to do better science, work across disciplines, be more innovative and become scientists as well as entrepreneurs—all with the aim at building a brilliant world and life.

I am eager to build upon what this exceptional community has already done so well: providing a active environment for learning and research, sharing freely diverse opinions and expertise, and cultivating the next generation of leaders able to take on the challenges of the 21st century, not only in science and technology, but also in various areas which can make a more prosperous world. Furthermore, there're four cornerstones which will lead us to achieve more future milestones. First of all, SCME is indispensable to ECUST and is making a global impact. Second, SCME has a solid foundation to achieve its full potential in scientific research, engineering technology as well as professional education. Third, SCME is financially well-supported in this challenging environment (973, 863 Program, Natural Science Fundation of China, etc. ). Most significantly, we have a strong SCME community which is essential to our success.

Whether you are an academic guru, an ambitious young scientist, or just a student interested in the developing science and technology, I encourage you to join us and explore with us.

Warm regards,

He Tian
Dean, School of Chemistry and Molecular Engineering
Academician of Chinese Academy of Science; Professor of Chemistry