March 23rd, as a high-level open, prospective, research-oriented academic forum, "Famous Teacher Forum" was first held in Jingxian Hall of Fengxian Campus. In this forum, Prof. Zhu Weihong (Dean of School of Chemistry and Molecular Engineering, Cheung Kong Scholars, the National Outstanding Youth Fund Owner) gave us a vivid lecture titled "Chemistry Driving Force the Scientific Research", which easily introduced an important role in the development of science in chemistry. Prof. Zhang Wenqing (Communist Party Secretary of School of Chemistry and Molecular Engineering), Yue Haiyang (Minister of Student Affairs Department), Ni Wei (Communist Youth League Secretary of ECUST), Hu Bing (Communist Youth League Vive-Secretary of ECUST) et al., also attended the lecture.
In order to improve the quality of undergraduate education quality, as well as create academic atmosphere and develop students learning interest, Communist Youth League of ECUST and Student Affairs Department decided to hold the "Famous Teacher Forum". In the future, more and more leading professors and experts of our school will hold "Famous Teacher Forum" in Fengxian Campus to let the students lay a solid foundation for future challenge in the scientific research frontline.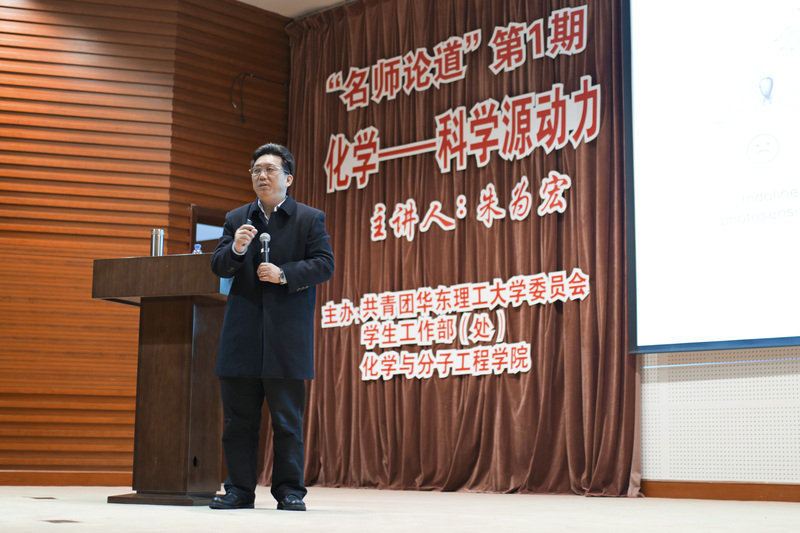 Starting from "How chemistry revitalized in the new era", Prof. Zhu introduced the discovery and significance of dithienylethene open / closed loop system, olefin metathesis, ferrocene and other chemistry theories. Meanwhile, he combined with research of Chemistry Institute, and introduced the development of new energy and new technology based on dye-sensitized solar cell. Prof. Zhu stated that as a central science, chemistry was the source of the development of science and technology. Students should correct the view of chemistry and chemical industry from inherent prejudices, and understand the positive role of the chemicals on human progress and social development more deeply and comprehensively.
He also gave some specific guidance on how to carry out innovation activities for undergraduates. In addition to recommend the "ACS central science" magazine, he encouraged the students to read popular science literature, tried to combine the professional knowledge with anything in life and learning methods. As an experimental science, chemistry was the science of creating new molecules and materials, so researchers should have the spirit of practice and innovation to overcome difficulties.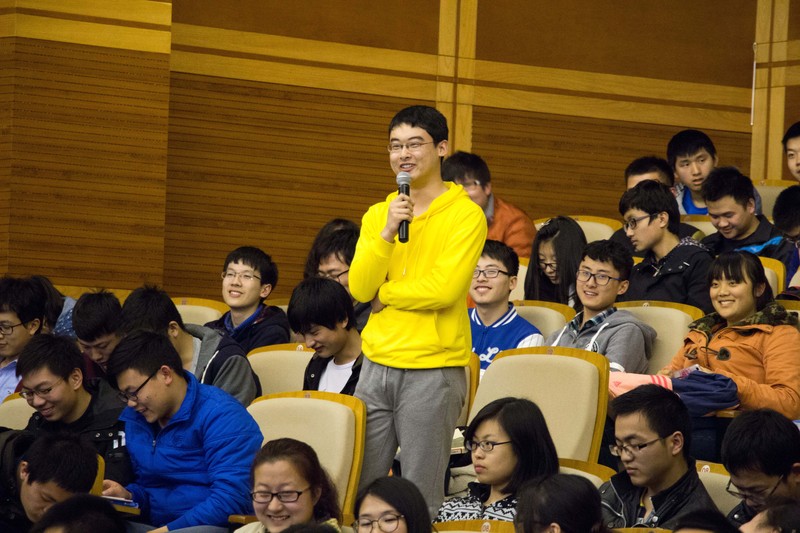 All present students were inspired and impressed by the witty humourous expressions and vivid illustrations of Prof. Zhu, thunderous applauses and laughters erupted from time to time in the lecture venue. "The lecture of Prof. Zhu enlightened us to have a better understanding of our majors, inspired our interest in scientific research and directed a clear development for our four-year university study and future careers." stated the students. In the finale, Prof. Zhu patiently and seriously answered all the questions raised by students and teachers.