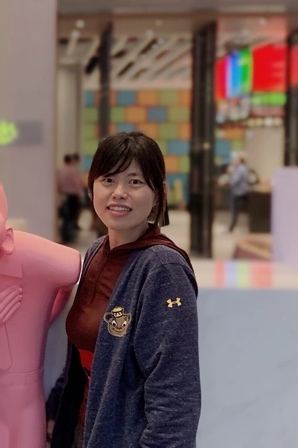 赵杰
博士,特聘副研究员,硕士导师
地址:华东理工大学实验三楼305室
邮件地址:zhaojie@ecust.edu.cn
教育及工作经历
2018.10 - 特聘副研究员 华东理工大学化学与分子工程学院
2014 - 2018 博士后 UC Berkeley, 合作导师: Prof. F. Dean Toste, Prof. Paul Alivisatos, Prof. Gabor A Somorjai
2012 - 2014 博士后 清华大学化学系合作导师:李亚栋教授
2009 - 2012 博士 清华大学化学系,导师:赵玉芬教授,付华教授
2002 - 2009 本科硕士 首都师范大学化学系,导师: 曹胜利教授
研究方向
课题组研究方向主要是设计合成新型异相材料,目标实现其在高活性、高选择性有机转化中的应用。(无机化学-有机催化交叉方向,均相催化异相化)。
代表著作:
1. Jie Zhao§*, Shufang Ji§, Chenxi Guo§, Haijing Li, Juncai Dong, Ping Guo, Dingsheng Wang*, Yadong Li, F. Dean Toste*, A Heterogeneous Iridium Single Atom Site Catalyst for Highly Regioselective Carbenoid O-H Bond Insertion. Nature Catalysis, 2021. 4, 523-531.
2. Ruixue Zhang, Yan Chen, Muhua Ding, Jie Zhao*. Heterogeneous Cu Catalyst in Organic Transformations. Nano Research, 2021, 15, 2810-2833.
3. Ping, Guo, Hongyuan Liu, Dr. Jie. Zhao*. Transforming Bulk Alkenes and Alkynes into Fine Chemicals Enabled by Single Atom Site Catalysis. Nano Research. 2022. Just accepted. https://doi.org/10.1007/s12274-022-4495-z.
博士与博士后期间发表工作
1. Baihua Ye#,Jie Zhao#, Ke Zhao, J. M. McKenna, F. Dean Toste, Chiral Diaryliodonium Phosphate Enables Light Driven Diastereoselective α-C(sp3)-H Acetalization. J. Am. Chem. Soc. 140, 8350, 2018). (#Co-first Author)
2. Rong Ye, Jie Zhao, Brent B. Wickemeyer1, F. Dean Toste, and Gabor A. Somorjai, Hybrids of Homogeneous, Heterogeneous, and Enzyme Catalysts for Optimized Performances. Nature Catalysis, 2018, 1, 318-325.
3. Jie Zhao, Son C Nguyen, Rong Ye, Baihua Ye, Horst Weller, Gabor A. Somorjai, A. Paul Alivisatos, F. Dean Toste, A Comparison of Photocatalytic Activities of Gold Nanoparticles Following Plasmonic and Interband Excitation and a Strategy for Harnessing Interband Hot Carriers for Solution Phase Photocatalysis. ACS cent. Sci.2017, 3, 428-488.
4. Rong Ye#, Jie Zhao#, Bing Yuan, Walter T. Ralston, Wen-Chi Liu, Joyce Rodrigues De Araujo,Franco F. Faucher, Matthew Chang, F. Dean Toste and Gabor A. Somorjai. New Insights into Aldol Reactions of Methyl Isocyanoacetate Catalyzed by Heterogenized Homogeneous Catalysts. Nano Lett.2017, 17, 584-589. (# Co-first Author)
5.Jie Zhao, Zhiqiang Niu, Hua Fu and Yadong Li. Ligand-free hydroboration of alkynes catalyzed by heterogeneous copper powder with high efficiency. Chem. Comm.2014,50,2058-2060.
6. Jie Zhao, Yufen Zhao, and Hua Fu. K2CO3-Catalyzed Synthesis of Chromones and 4-Quinolones through the Cleavage of Aromatic C-O Bonds. Org. Lett. 2012, 14(11), 2710-2713.
7. Jie Zhao, Yufen Zhao, and Hua Fu. Transition-Metal-Free Intramolecular Ullmann-Type O-Arylation: Synthesis of Chromone Derivatives. Angew. Chem. Int. Ed.2011, 50, 3769-3773.